PRODUCTS
817 Elephant Pure Basmati Rice is the world's most exquisite rice. It takes birth in the most fertile valleys and plains of India It is harvested by hand with delicate care, aged to perfection and then processed.
The result is an extra long, pearly white, delicate grain with an irresistible aroma and delectable taste bringing alive an age of nawabs and emperors, glittering courts and legendary chefs. Deva Singh Sham Singh — producers of the finest basmati rice since 1920, present their universally celebrated brand 817 Elephant Pure Basmati Rice.
Delectable, long-grained, aromatic basmati. Now available in a range of attractive, high-grade packaging to suit the varied needs and preferences of the international and domestic markets.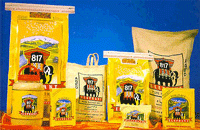 Range of 817 Elephant Pure Basmati Rice Packaging 20 kg, 10 kg, 5 kg & 2kg white canvas bags ; 20kg, 10 kg & 5kg laminated paper bags with zipper; 5 kg, 2 kg, 1kg & 500gms cartons and laminated plastic pouches and 5 kg & 2kg PET jars. Packing can also be done in pounds on special request from customers.
Deva Singh Sham Singh has over the years produced the finest Basmati rice for esteemed clients such as you. We have continued to add new brands, giving you a variety of Basmati rice to choose from, for special occasions.