PROFILE
Maintaining an impeccable reputation for consistent quality.Deva Singh Sham Singh ( DSSS) is one of India's oldest and reputed companies, incorporated in 1920 and receiving the country's 817th registered trademark. This family owned company has an  international reputation for milling and exporting the finest Indian traditional basmati rice.
Indian traditional basmati rice is grown at the foothills of the Himalayan Mountains in the geographical region of Punjab, Haryana and Uttarakhand. The climate and soil, unique to this region of the Indian subcontinent, are essential to the cultivation of this particular grain. Recognized as a gourmet food product, basmati rice is arguably the most flavored and aromatic variety of this international dietary staple.
Deva Singh Sham Singh is one of the largest exporters of Indian traditional basmati rice, holding a significant market share in over 18 countries worldwide. The company operates two state-of-the-art processing plants and a modern research laboratory with an installed capacity of over 12MT per hour of milling.
Constant upgrading of equipment to reflect technological advancement has solidified their position as a leader in this field. In addition to paddy cleaning, drying, parboiling, milling, polishing and grading machines, Buhler and Satake Sortexes for color sorting and state-of-the-art Loma metal detectors are part of the integrated processing lines. The finished product is then packaged on-site in a variety of consumer packaging.
Company's management philosophy is to integrate family tradition with international technical advances to ensure that DSSS continues to supply the highest quality products to consumers worldwide. Besides receiving BRC-5 certification ( Global Standard for Food Safety Analysis and Critical Control Point ) from ITS Testing ( UK ) Ltd., the company has also received ISO 22000-2005 and PAS 220-2008 certification from Intertek Senko Certification AB Kista (Stockholm) Sweden.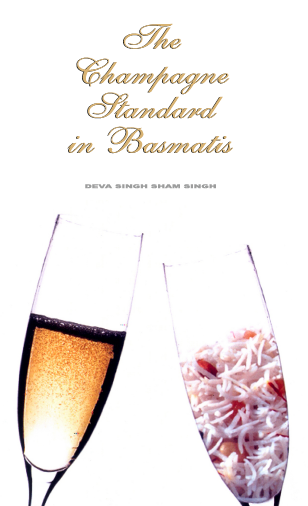 DSSS has recently been certified by SGS ( Scope ) India Pvt Ltd for compliance  that its products are in accordance with India's National Programme for Organic Production Standards. ( Scope Certificate No. ORG/SC/1009/001190. As a result, DSSS has also started processing Organic Basmati rice after getting one of their processing facility certified by SGS for Organic processing.
Under the recognized 817 Elephant brand DSSS has long supplied rice to the large Indian and Middle Eastern ethic markets in the United States, Canada, Australia, Europe and Middle East. DSSS has been present on the US and Canadian markets since 1978, with the 817 Elephant trademark having been registered in these countries in 1984.
Since that time DSSS has maintained an impeccable reputation for consistent quality and an unblemished record of FDA approval. Over the years it has responded to the increasing demand from mainstream consumers and now supplies basmati rice to several large Grocery and Cash & Carry chains.These include Giant, Safeway, A&P and Wegmans in the United States and Loblaws, Walmart and Sobey's in Canada. Through their distributor in Canada, DSSS supplies Basmati rice to Uncle Ben's in Houston, Texas and to EFFEM Foods (a subsidiary of Uncle Ben's) in Ontario, Canada. The company also sells rice directly to GOYA Foods in the US. Basmati rice under the DSSS Butterfly brand is also sold in the Canadian market, an application to register this trademark in the US is currently under process.
For the past ninety years Deva Singh Sham Singh has built upon its extensive experience and resources to diversify and improve its operations. Combining technological advancements with strict standards of quality has allowed them to retain the impeccable reputation of their food products while expanding to meet changing consumer demands. DSSS is dedicated to upholding its tradition of excellence and remaining the premier exporter of basmati rice worldwide.
The company's  worldwide dealer network covers Australia, Austria, Italy, Spain, Bahrain, Turkey, Canada, Cyprus, Israel, Martinique, Mauritius, Trinidad & Tabago, Lebanon, New Zealand, Saudi Arabia, Palestine, UAE and the USA.
Over the years, DSSS has received numerous awards from various national bodies paying testimony to their dedication to quality, and their outstanding performance in the international market. Among the awards accorded  to the company in recent years are the President of India National Award, the State Export Awards, the State Productivity Awards and the APEDA Awards. The Company has the distinction of being recognized as an Export House by the Government of India.