INGREDIENTS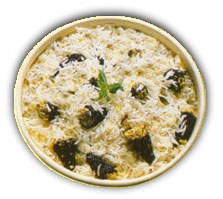 817 Elephant Pure Basmati Rice 200 g. (116 oz).
Morel mushrooms (dried) 50 g.
Cumin seeds 1 tbsp.
Processed cheese 50 g.
Pomegranate seeds 1 tbsp.
Saffron 7-8 strands.
Salt to taste. .
Almonds, Walnuts and raisins to garnish.
METHOD
Soak morels overnight and wash thoroughly. Mix grated processed cheese with pomegranate seeds and cumin seeds for stuffing. Cut off the stalks and fill with stuffing. Bring water to boil with whole spices, saffron and salt. Add soaked rice and cook till done. Add morels and seal the container with kneaded dough. Cook on slow flame for 100 minutes. Garnish with almonds, walnuts and raisins. Serve hot.