INGREDIENTS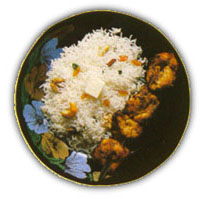 817 Elephant Pure Basmati Rice 200 g. (16 oz).
Sultanas Kishmish) 25 g.
Cashew nuts 25 g. Chironji 25 g.
Almonds 25 g. Pistachios 25 g.
Saffron 78 strands.
Salt to taste. Butter or vegetable oil for cooking.
METHOD
Heat water and bring to boil.
Add soaked rice and boil with whole spices, saffron and salt, till done.
Heat oil in a pan.
Add cleaned sultanas, cashewnuts, chironji almonds and pistachios.
Fry till golden brown.
Mix into cooked rice and serve hot with kebabs of your choice.