INGREDIENTS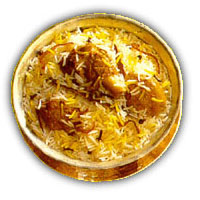 817 Elephant Pure Basmati Rice 200 g. (116 oz).
Morel mushrooms (dried) 50 g. Cumin seeds 1 tbsp.
Processed cheese 50 g.
Pomegranate seeds 1 tbsp.
Saffron 7-8 strands. Salt to taste. .
Almonds, Walnuts and raisins to garnish.
METHOD
Marinate the meat in curd coriander, crushed garlic,
crushed ginger, salt and black pepper powder for a minimum of 4 hours. Heat the oil in a heavy bottomed pan
Add cloves, cinnamon, bay leaves and nutmeg.
Stir for one minute and add the meat mixture.
Cook until the meat is done and dry.
Pre cook 817 Elephant Pure Basmati Rice in salt water with saffron.
Layer the meat and the rice in 4 layers, beginning with a meat layer
at the bottom of a large casserole or pan.
Cover with an air  tight lid and cook on a slow, or bake on warm, for half an hour.
Uncover just before serving.