INGREDIENTS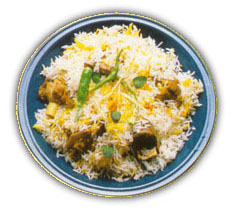 817 Elephant Pure Basmati Rice 200 g. (16 oz),
Saffron 7-8 Strands.
Butter or vegetable oil for cooking 60 mi. (3 oz).
Large onions, sliced 2
Ginger/garlic paste 2 tbsp.
Cumin seeds 2 tbsp.
Lamb diced, 250 g.
Cinnamon stick 1 ,
Cloves 8.
Peppercorns 2 tbsp.
Coriander ground 1/2 tbsp.
Mace ground 1/2 tbsp.
lamb stock 125ml(6 oz).
Curd 6 tbsp.
Double cream 6 tbsp.
Green chillies 2.
Salt to taste.
Mint leaves to garnish.
METHOD
Heat oil in a pan and add whole spices.
Add sliced onion and fry till translucent.
Add ginger/garlic paste and fry till light brown.
Add lamb cubes marinated in curd for a minimum of four hours.
Fry on high flame till meat is slightly browned.
Add salt. Cover with a heavy lid and cook till tender
adding small amounts of lamb stock as required.
Boil water in large pan.
Add presoaked rice and cook till nearly done.
Take a large, heavy-bottom pan and transfer the cooked lamb into it.
Add the boiled rice and sprinkle with dissolved saffron and cream.
Cover with a heavy lid and cook on slow flame (Dum).
Serve garnished with green chillies and a sprig of mint.