INGREDIENTS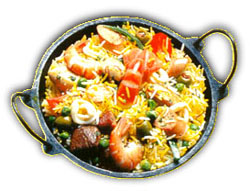 817 Elephant Pure Basmati Rice 200g. (16 oz).
Chicken sausage 200 g.
Ham 60g.
lobster 100 g.
Prawns/shrimps 200g.
Mussels 100g.
Peas 50g
olive oil 60 mi. (3 oz),
Capsicum, deseeded and diced 2.
Garlic cloves 5.
Tomatoes, chopped 250 g.
Parsley, chopped 10 g.
Turmeric powder 1/2 tbsp.
Lemon wedges to garnish.
METHOD
Clean the meat and seafood and cut and dice. Cook the mussels in a large pan with water, then drain and keep aside. In a large pan, heat oil and fry, Add garlic, tomatoes, parsley, rice seasoning, sausage, mussels, ham and lobster. Sauté for 2 minutes.. Add water, dissolved saffron and turmeric. Bring to boil, stirring occasionally. Cook on slow flame for 3 minutes and transfer to a very large, shallow oven-proof dish, Cover with foil and bake in pre-heated oven at 180 degrees Celsius for an hour. When the rice is nearly tender add prawn/shrimps, burying them in the rice so that they heat through. Garnish with wedges of lemon and parsley sprinkled generously.