INGREDIENTS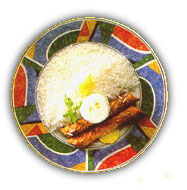 817 Elephant Basmati Rice 3 cups(24oz).
Seekh Kebabs 12 large.
Butter or Vegetable Oil for cooking.
Lemons 3. Mint leaves.
White Onions 6. Butter 100gms.
METHOD
Boil 817 Elephant Pure Basmati Rice.
Divide into 6 dinner plates.
Fry Seekh Kebabs till brown.
Place two pieces over each plate of rice.
Chop the top and bottom portions of each onion and cut into slices.
Place one in each plate along with a generous dollop of butter.
Add mint and half a lemon.