INGREDIENTS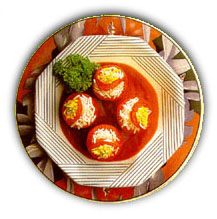 817 Elephant Pure Basmati Rice 2 cups(16oz).
Red Tomatoes 6 large.
Bay leaves3.
Cinnamon sticks3.
Pinch of Saffron.
Onions 3 (finely chopped).
Garlic 20g.
Tomato puree 2 cups (16oz).
Salt and Oregano to taste.
Butter or Vegetable Oil for cooking.
METHOD
Boil 817 Elephant Pure Basmati Rice in water flavored with bay leaves, cinnamon and saffron.
The Tomatoes: Wash and dry the tomatoes and cut off thin slice from the top. Scoop out pulp and fill the tomato shells with seasoned rice.
Steam the tomatoes lightly in an upright position, and garnish with fresh celery.
The Gravy: Sauté finely chopped onions and garlic in butter. Add tomato puree and sauté for another 5 minutes. Liquidise the mixture and add salt and oregano to taste. Transfer the gravy into a serving dish and top with stuffed tomatoes. To be served hot.