ZAFRANI RICE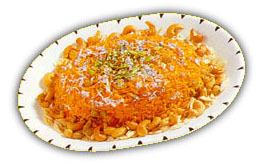 INGREDIENTS
817 Elephant Pure Basmati Rice 3 cups (24oz). Sugar 5 cups (40oz). Pure Ghee 1 cup (8oz). Orange Juice (freshly squeezed) 1 cup. Milk 1 tablespoon. Saffron 1 tablespoon. Raisins, Almonds, Pistachio, Cashewnuts, Orange 1 whole. Silver Varq 4 leaves.
METHOD
Half cook the rice with few drops of pure ghee.
Let it cool for 10- 15 minutes.
Blanch the Almonds.
Shred almonds and pistachios and roast almonds in few drops of ghee. Separate orange grains from skin.
Make sugar syrup in ½ cup of water.
Add raisins and saffron soaked in milk to syrup.
Add few drops of orange colouring.
Heat ghee in a heavy bottom pan fry and the rice.
Slowly add the sugar syrup.
Cook for 5 minutes on slow fire.
Add orange juice and cook again for 5 minutes.
Garnish with orange grains, dry fruits and silver varq.
Serve Hot.